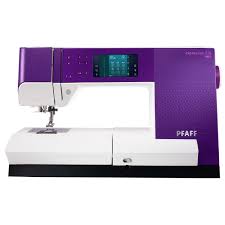 PFAFF Expression 710
Pfaff Expression 710 sewing machine features advanced, innovative and customisable functions, helping you push the boundaries from what's possible with your sewing machine. The colour touch screen, huge sewing space, vast array of stitches and array of advanced and easy to use technology all add up to a highly versatile and creative tool.
sale
Colour Touch Screen - See a stitch preview and get all the sewing information you need directly on the 70mm x 53mm Colour Touch Screen.
The Original IDT System - The integrated dual feed from Pfaff precisely feeds all types of fabric from the top and bottom for perfect stitching every time.

274 Stitches - Be astonished by the fascinating selection of Pfaff high-quality stitches – unique embellishments, stitched perfectly up to 9mm. You'll have endless opportunities to be creative with 7 categories for easy selection.

3 Built-In Sewing Fonts - Choose from 3 sewing alphabets, with both upper- and lower-case letters, for easy programming.

Stitch Positioning - Moves the complete stitch right or left to easily align decorative stitches.

Mirror Image of Stitches - Flip the stitch side to side and/or end to end for even more possibilities.

Tapering on all 9mm Decorative Stitches - Taper the beginning and/or end of any stitch, and choose from many different angles for unlimited opportunities.

Stitch Density - Density can be increased or decreased without affecting stitch length by controlling the distance between the stitch points.

Immediate Tie-Off - When pressed the machine will tie-off and stop automatically for a quick and easy finish.

Large Sewing Space - The Pfaff Expression 710 sewing machine is the perfect choice for quilters, home decor sewers, fashion enthusiasts – anyone who creates. The sewing area to the right of the needle is nearly 10" (250mm), great for sewing large amounts of fabric or batting.

Automatic Presser Foot Lift - Raises the presser foot instantly when the needle is set to stop down.

Twin Needle Program - Enter twin needle size to automatically adjust the stitch width. You can see the twin needle stitch on the screen.

Automatic Self-Adjusting Thread Tension - Best tension is set automatically for all sewing techniques and fabrics. Override automatic tension easily for unique techniques.

Sensormatic Buttonholes - The Sensormatic Buttonhole Foot automatically sews perfectly balanced one-step buttonholes every time. Both buttonhole columns are sewn in the same direction for precise stitch quality. 8 buttonhole styles designed for various sewing applications.

37 Needle Positions - For exact placement of your straight stitch. Perfect for topstitching, edge stitching, under stitching, stitching-in-the-ditch or quilting.

Free-Motion Modes - Choose between 3 modes for free-motion quilting, thread painting or darning. Select the best mode for your specific technique. External Feed Teeth Drop is conveniently placed at the front of the machine.

Stitch Width Safety - Select stitch width safety to eliminate needle breakage with straight stitch accessories.

Extra Presser Foot Lift - Raises the presser foot to its highest point while dropping the feed teeth so thick fabrics can be placed easily under the presser foot.

Quick Help System - Touch the quick help icon for instant information.

Needle Up/Down - Set needle to stop up or down in the fabric for pivoting, appliqué and more.

Thread Snips - Automatically cut top and bobbin threads, pulling thread ends to the back side of fabric.

Start / Stop Button - Sew without the foot control. Makes sewing long seams, freemotion and buttonholes easy.

Stitch Restart - Return to the beginning of a stitch or sequence without having to reset any special adjustments you've made.

LED Illuminated Workspace - Designed to give even light across the entire work area. LED technology and light guides provide excellent lighting on your work area. See fabric and stitches in true color and with less shadows.

Speed Slider - Adjust sewing speed with the speed slider for full control.

Personal Menu - Save up to 30 of your personal stitches and sequences in a folder to sew them again whenever you wish.

Stitch Sequencing - Combine and save up to 99 stitches and/or letters.

Built-in Needle Threader - Makes threading easy and reduces eye strain.

Bobbin Thread Sensor - Alerts you when bobbin thread is low.

Bobbin Winding from the Needle - For time saving and convenient bobbin winding.

Download the latest firmware from the internet - update quickly with a USB stick.

Stylus Holder Built-In - Keeps your stylus at your fingertips.

Inch/cm Ruler on the Base Plate - Convenient measuring directly on your Pfaff Expression 710 sewing machine.

Hard Cover